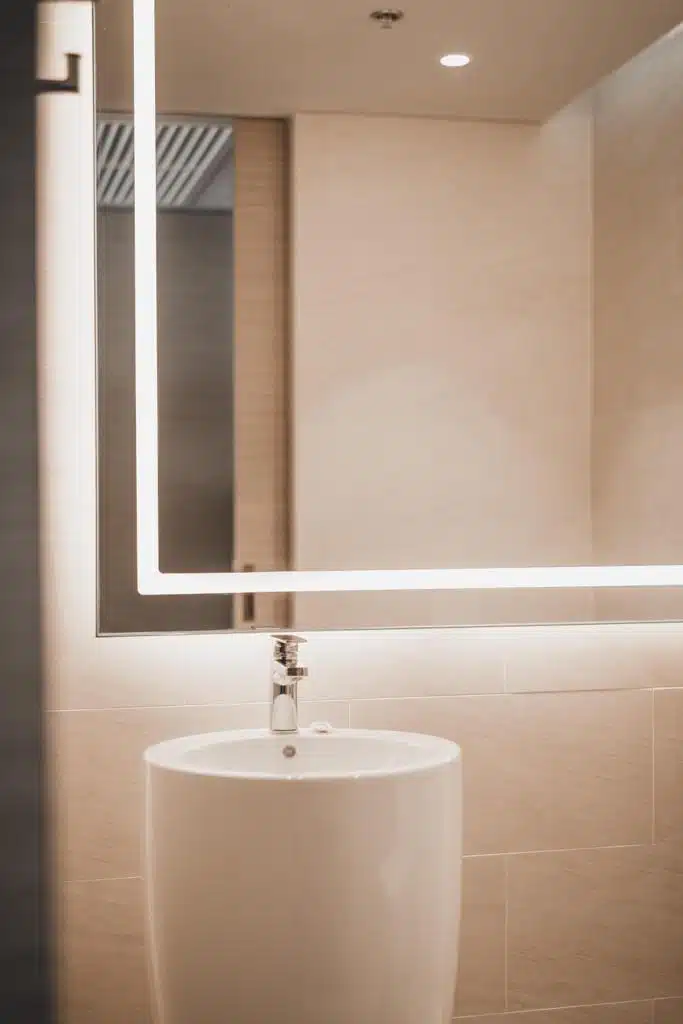 Design Mirror For Bathroom Near Dubai
At PaimaGlass, the leading provider of glass and aluminium products and services in Dubai, we understand the significance of a well-designed bathroom. A design mirror can be the perfect addition to enhance your bathroom's functionality and aesthetics. Our extensive range of bathroom design mirrors is crafted to meet the diverse preferences and requirements of homeowners, businesses, and construction professionals in Dubai and the surrounding areas. From sleek and modern to traditional and ornate designs, we offer a wide array of options that will transform your bathroom into a space of elegance and functionality.
Reflect Your Style with Customized Design Mirrors
At PaimaGlass, we believe every bathroom should reflect its owner's personal style and taste. That's why our bathroom design mirrors can be customized to suit your unique vision. Whether you prefer a minimalist, contemporary look or a more elaborate, classic design, our expert team can bring your ideas to life. Choose from various customization options, including shape, size, frame finish, and even mirror tint. Our skilled craftsmen will meticulously create a design mirror that perfectly matches your vision, turning your bathroom into a reflection of your style.
Embrace Functionality: Innovative Features for Your Design Mirror
While aesthetics are important, we understand that functionality is equally crucial for bathroom mirrors. That's why our design mirrors for bathrooms incorporate innovative features to enhance your experience. Say goodbye to foggy mirrors with our anti-fog technology, which ensures clear visibility even in the steamiest environments. For added convenience, explore our range of design mirrors with built-in lighting. We have options from soft ambient lighting to bright task lighting to suit every need. Elevate your daily routine with a design mirror that combines style and functionality.
Quality Craftsmanship: Durability Guaranteed
At PaimaGlass, we are committed to providing design mirrors for bathrooms that withstand the test of time. Our mirrors are crafted with precision and attention to detail, using the highest quality materials. Every component undergoes rigorous quality control, from the mirror glass to the frame, to ensure durability and longevity. Our design mirrors are resistant to moisture and corrosion, making them perfect for the bathroom environment. Invest in a PaimaGlass design mirror, and enjoy its beauty and functionality for years.
Expert Guidance and Seamless Installation
Choosing the right design mirror for your bathroom can be overwhelming. That's where our dedicated team of experts steps in. At PaimaGlass, we offer personalized guidance to help you select the perfect design mirror for your bathroom. Our knowledgeable professionals will consider your requirements, style preferences, and budget to recommend the best options. Once you've selected, our experienced installation team will ensure a seamless and hassle-free installation process, leaving you with a stunning design mirror that complements your bathroom perfectly.
Create Your Dream Bathroom with PaimaGlass
Take your bathroom design to the next level with our exquisite range of bathroom design mirrors. With customization options, innovative features, and superior craftsmanship, PaimaGlass is your go-to partner for all your glass and aluminium needs. Explore our collection today and discover the possibilities that await you. Visit our website or contact us to schedule a consultation with our experts. Let PaimaGlass help you transform your bathroom into a space of luxury and elegance with our exceptional design mirror options.