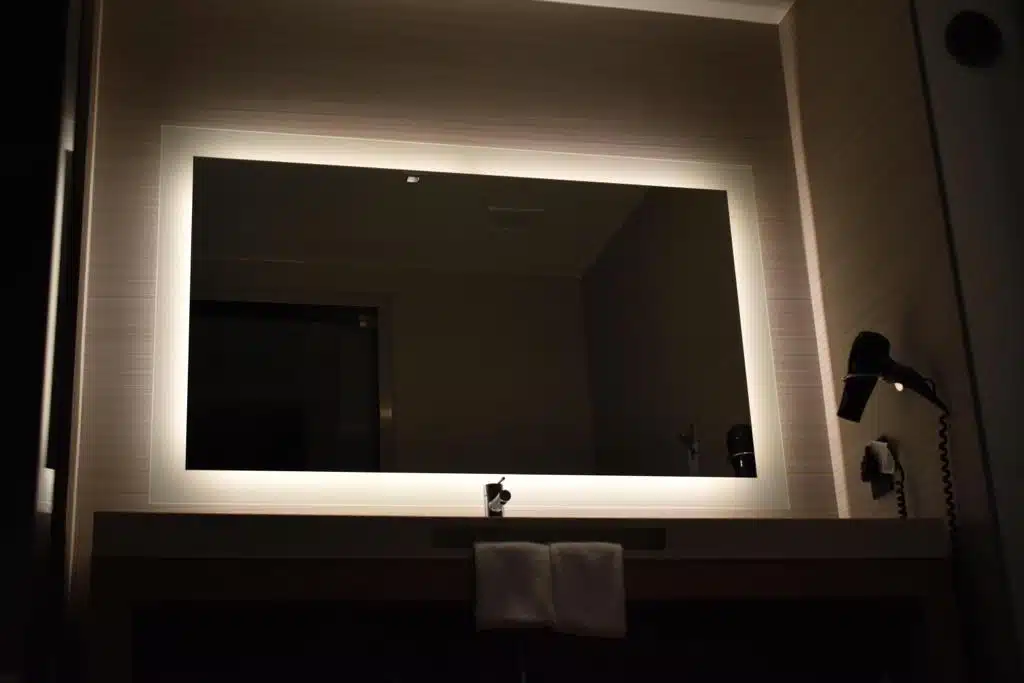 Bathroom Mirror Design in Dubai
A mirror plays a vital role in functionality and aesthetics in creating a perfect bathroom. At PaimaGlass, the industry leader in glass and aluminium products and services in Dubai, we take pride in offering a wide range of stylish and functional bathroom mirror designs that will elevate your bathroom experience. With our expertise and commitment to quality, we aim to provide the perfect bathroom mirror design that complements your bathroom's decor and fulfils your unique requirements. Discover the transformative power of our bathroom mirror designs and enhance your bathroom near Dubai.
Reflect Your Style and Taste
A bathroom mirror is a focal point in your space, reflecting your style and taste. At PaimaGlass, we offer a diverse collection of bathroom mirror designs to suit every individual's preferences. Whether you prefer a sleek and modern design or a more traditional and ornate mirror, we have a wide selection to cater to your style. Our bathroom mirror designs can add a touch of elegance, sophistication, or even a bold statement to your bathroom, making it a true reflection of your unique taste.
Functionality and Practicality
In addition to enhancing the visual appeal of your bathroom, our bathroom mirror designs are crafted with functionality and practicality in mind. We understand the importance of proper lighting and clear visibility during your daily routines. That's why our bathroom mirror designs can come with built-in lighting, demisters, and even anti-fog properties. Say goodbye to the hassle of wiping off fog or struggling with inadequate lighting while preparing for the day. With our bathroom mirror designs, you can enjoy a bright, clear, and comfortable space that simplifies your daily routines.
Tailored Solutions for Your Bathroom
Every bathroom is unique, and we understand the importance of finding the right fit. That's why we offer tailored solutions for your bathroom mirror design near Dubai. Our expert team will work closely with you to understand your requirements and provide customized options to fit your space and vision perfectly. Whether you have a small powder room or a spacious master bathroom, we have the expertise to create a bathroom mirror design that harmonizes with your bathroom's dimensions and style. Let us help you create a bathroom that reflects your personality and enhances your daily routine.
Durability and Quality Craftsmanship
At PaimaGlass, we are committed to delivering bathroom mirror designs that are durable and built to last. We understand that bathroom environments can be challenging, with exposure to moisture and frequent use. That's why our bathroom mirror designs are made with the highest quality materials and undergo rigorous quality control processes to ensure their longevity and performance. From the mirror itself to the frames and any additional components, every aspect of our bathroom mirror designs is designed to withstand the demands of a bathroom environment. Invest in a PaimaGlass bathroom mirror design and enjoy its beauty and functionality for years.
Conclusion
Elevate your bathroom near Dubai with our stylish and functional bathroom mirror designs at PaimaGlass. Personalize your space and reflect your style with our diverse range of options. Experience the convenience and practicality of our bathroom mirror designs, with features such as built-in lighting and anti-fog properties. Let our team of experts provide tailored solutions that perfectly fit your bathroom dimensions and style. Trust in our commitment to durability and quality craftsmanship, ensuring that your bathroom mirror design withstands the test of time. Visit our website or contact us today to explore our collection and discover the perfect bathroom mirror design near Dubai. With PaimaGlass, you can confidently create a bathroom that blends style, functionality, and your unique taste.