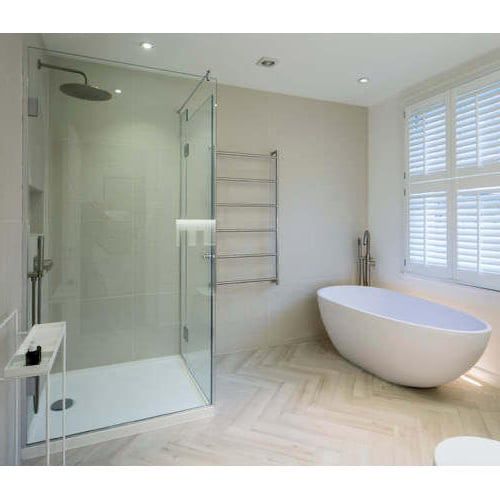 Find the Perfect Shower Glass near me
The bathroom is one of the most important rooms in your home. It's where you start and end each day, so it must function well and look great too. At PaimaGlass, we know that choosing the perfect shower glass near Dubai can be a daunting task, which is why we offer a wide range of glass and aluminium products and services to suit all your needs.
An Eye for Design – The Role of Aesthetics in Choosing Your Shower Glass
When choosing your shower glass, aesthetics play a vital role in the overall appeal of your bathroom. With this in mind, PaimaGlass offers an array of decorative finishes to match any design preference. Our range of shower glass includes plain, frosted, patterned, tinted, and even coloured options, ensuring that your shower glass perfectly matches your overall aesthetic.
Keep it Clean – The Purpose of Shower Glass.
Functionality and cleanliness should always be at the forefront of your decision when selecting the perfect shower glass near Dubai. Choosing the right type of glass ensures that your bathroom is easy to clean and maintain without sacrificing style. Our high-quality glass options have been engineered to resist stains, scratches, and dirt buildup. With PaimaGlass, experience showering bliss without any hassle of maintenance.
The Perfect Fit – Customized Shower Glass Solutions
No two bathrooms are alike, nor should any two shower glasses be the same. From the perfect shower glass panels to shower glass doors, we offer a wide range of customized solutions to fit any bathroom configuration. Our team of professionals provides tailored advice and expertise to recommend the best solution for your specific requirements.
High Quality at Reasonable Prices – Affordability at heart
We understand how important affordability is for our clients. At PaimaGlass, we offer a range of top-quality shower glass solutions at reasonable prices. We focus on creating value for our clients by offering the best possible balance between quality and affordability. This way, you not only get the shower glass that meets your requirements but also get it at an affordable price.
Experience the PaimaGlass Difference – Your Partner for Shower Glass Solutions
When finding the perfect shower glass near Dubai, PaimaGlass is your trusted partner. With years of experience delivering high-quality glass and aluminium products, we understand the needs of our customers and have positioned ourselves as an industry leader. We take pride in our customer-centric approach and provide tailored recommendations to ensure every customer finds the perfect shower glass for their bathroom.
Whether you are a homeowner, business owner, or construction professional, we have a solution to take your bathroom to the next level. To learn more about our shower glass solutions, visit our website or showrooms today. Find your dream shower glass today with PaimaGlass near Dubai.
Contact us now to learn more about our shower glass solutions.