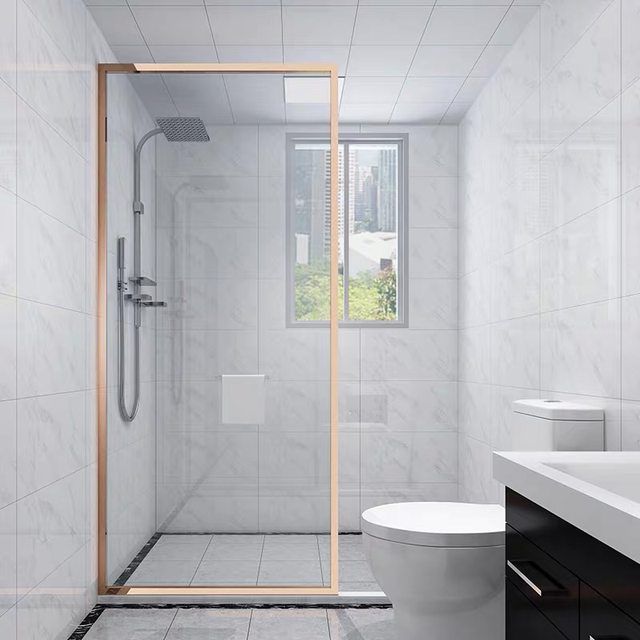 Golden Frame Shower Screen Near Dubai
Transforming your bathroom into a luxurious and stylish retreat is now easier than ever with the exquisite range of golden frame shower screens near Dubai. PaimaGlass is proud to offer these stunning additions to elevate your bathing experience. Our shower screens serve as functional barriers and make a striking design statement, adding a touch of opulence to any bathroom.
Unleash Your Creativity with Customizable Options
At PaimaGlass, every homeowner deserves a shower screen that perfectly complements their unique style. That's why our golden frame shower screens are fully customizable, allowing you to express your creativity and create a bathroom oasis that reflects your taste. Choose from various sizes, shapes, and finishes to create a shower screen that seamlessly integrates with your bathroom décor.
Immerse Yourself in Unparalleled Quality and Durability
Our golden frame shower screens are expertly crafted using the highest quality materials to ensure long-lasting durability and structural integrity. Each screen is meticulously designed to withstand the demands of daily use, making it a sound investment for your home or commercial space near Dubai. With our commitment to excellence, you can trust that your shower screen will retain its beauty and functionality for years.
Experience the Beauty of Golden Frame Design
The golden frame design of our shower screens adds a touch of elegance and sophistication to any bathroom. Whether you prefer a modern, sleek look or a more classic and traditional aesthetic, our range of golden frame shower screens offers options to suit every taste. The golden frame is a stunning centrepiece that beautifully frames the transparent glass, creating a visually captivating focal point in your bathroom.
Unmatched Versatility and Functionality
Beyond their stunning appearance, our golden frame shower screens are designed with functionality in mind. Our expert team at PaimaGlass understands the importance of convenience and ease of use in your daily routine. Our shower screens have innovative features such as easy-glide sliding doors, smooth pivots, and efficient water seals. These features ensure a seamless and hassle-free shower experience while keeping your bathroom dry and free from splashes.
Safety and Security at the Core
At PaimaGlass, we prioritize the safety and security of our customers above all else. Our golden frame shower screens are constructed with toughened safety glass that meets international safety standards, providing peace of mind. Additionally, our screens are designed with precision-engineered fittings and mechanisms to ensure robustness and stability. With PaimaGlass, you can enjoy a luxurious shower experience without compromising safety.
Your Trusted Partner in Dubai's Glass and Aluminium Industry
PaimaGlass is a leading provider of glass and aluminium products in Dubai and the surrounding areas. Our commitment to superior craftsmanship, exceptional customer service, and innovative design sets us apart. With our vast selection of golden frame shower screens and other premium glass and aluminium products, we offer a one-stop solution for all your interior design needs.
Explore the Possibilities with PaimaGlass Today
Don't miss the opportunity to transform your bathroom into a luxurious sanctuary with our golden frame shower screens near Dubai. Discover the beauty and functionality of our bespoke designs and experience the exceptional quality that PaimaGlass is known for. Visit our showroom or browse our website to explore our extensive glass and aluminium products collection. Let PaimaGlass be your trusted partner in creating spaces that exude elegance and style. Contact us today to schedule a consultation and unlock the true potential of your bathroom.