Choose Choice Design & Decorative Mirrors Near Dubai?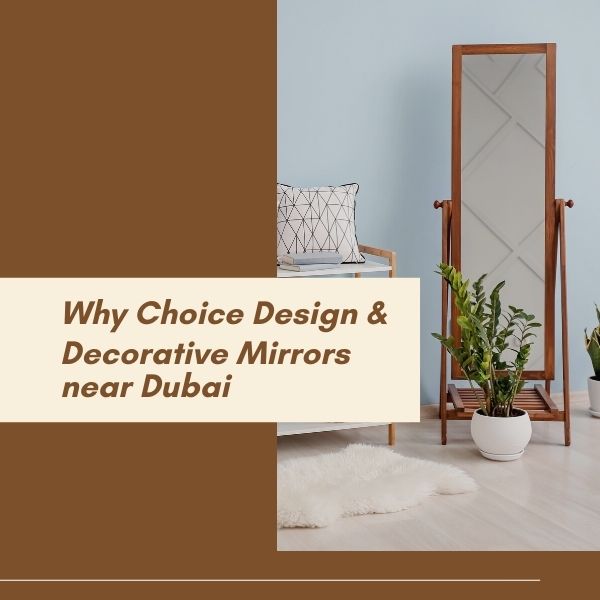 There are many benefits to buying a mirror online. For starters, it saves you time by allowing you to compare prices. You can also ensure that you're getting a good deal because you'll be able to buy one at a lower price if you compare prices at a variety of stores. Purchasing mirrors online can also give you peace of mind because you can be certain that your information will remain secure. Unfortunately, not everyone can be trusted, especially when it comes to security.
Decorative mirrors are a great way to maximize natural lighting
Decorative mirrors can be a powerful decoration tool. Not only do they reflect light, they create an illusion of depth and space. They can also serve as a practical alternative to framed art. In fact, using mirrors creatively in your home can double the amount of natural lighting in a room. This can enhance your living space and make it appear more spacious.
Decorative mirrors can be placed throughout a room, such as on book shelves. You can also purchase mirror furniture for your home to add sparkle. Mirrored trays can be used to store decorative items. In addition to enhancing the room's lighting, mirrors can help you save energy by redirecting daylight to poorly-lit areas. This is an excellent way to make your home look more spacious and bright.
A well-placed mirror will not only reflect the light that enters the room, it can also increase the feeling of space. Placed against windows, mirrors can reflect natural sunlight. A full-length mirror placed in between two windows can trick the eye into thinking there is an additional window. A full-length mirror placed against the wall creates a relaxing mood. But beware of placing a mirror directly against a bathroom or other unattractive objects.
If your home is dominated by white walls, mirrors can be an excellent way to increase the brightness of a room. Using a white mirror with a natural wood frame will add to the white hue of the room. In addition, mirrors are a great way to brighten small spaces. You can even choose ceiling-height mirrors to use as in-between spaces.
They add personality
Adding a mirror to a room can add personality, create a focal point, and serve practical functions in any room. Decorative mirrors underscore your design theme and add a touch of personality to any room. Decorative mirrors are particularly useful for bathrooms and powder rooms, where coordinated mirrors and light fixtures make the room look more spacious. Mirrors are also an excellent way to make smaller rooms look larger, since they reflect natural light.
When decorating a farmhouse-style room, choosing a mirror with a white frame and weathered wood frame can lend a rustic look. The floor-length mirror is a popular choice because of its length, making it easier to lean against the wall while giving off a relaxed vibe. Modern rooms can benefit from a wide variety of styles and sizes. The style of a mirror can make all the difference.
Choose a mirror with an interesting shape. If you love flowers, a flower-shaped decorative mirror might be a great choice. The petals on these mirrors are intricate, striking the right balance between modernity and tradition. A pinwheel-like design on the outer end adds visual drama and complements other elements in the room. If you'd like to add more visual drama to a room, consider incorporating a decorative mirror with the same shape as the wall.
A framed mirror adds a unique look to the room. Mirrors reflect light and create an illusion of extra space. Decorative mirrors come in a variety of shapes and colors and are available framed or unframed. Different styles of frames are available to enhance their aesthetic appeal. Choose a style that matches the rest of your home. It will surely add character to your decor. If you're interested in purchasing one, be sure to choose a quality one made in Italy.
They help make a room feel bigger
A framed mirror can make a room appear bigger. A large mirror, especially one with a large frame, can reflect light and make a room look bigger. Decorative mirrors are also a great way to make a room feel larger, especially when the room is small. A mirrored chest of drawers can help the room appear larger. A large, simple piece of furniture can also help to open up a room and make it look more comfortable.
Decorative mirrors can also expand the feeling of space by adding a sense of height to a room. They can be placed across from a picture window to reflect natural light and help to open up a room. In a dining room, hanging a large floor length mirror will add light and expand a corner. A 75-inch-long mirror, for example, can balance the length of a room and make the space appear wider. For a more dramatic effect, you can hang a large mirror against the wall, so that it makes a statement.
If you're planning to add large-scale mirrors in the living room, make sure to select those that complement the rest of the decor in the space. Large mirrors can make a room look bigger because they reflect light from nearby light fixtures and tall plants. You can also create an eye-catching mirror border by displaying a series of smaller prints in the area. Another great way to make a room appear bigger is to place a large mirror in a hallway or living room.
A good-quality mirror can make a small room feel much larger. By strategically placing a mirror, you can make a small room appear twice as big. The reflected light is a reflection of the room's surroundings. A well-placed mirror can give the room a broader feel, while a full-wall mirror can give a room twice the space of its original dimensions.
They can be hung on a door
Whether you want to hang your mirror on the front door of your home or hang it on the back of a door, there are several ways to do it. In the first step, you will need to determine the best location to hang the mirror. You should hold the mirror against the wall and mark the corners with a pencil. If you are not confident in your handiwork, ask someone to help you.
A square frameless decor mirror is one example of this. A beveled edge make this a popular choice for many homeowners. These high-end, tiny mirror pieces add a touch of class and elegance to any room. Installation requires a wooden frame and metal picture hangers. Once the mirror is installed, the picture hangers are attached to the wood frame.
Another popular choice for decorating a door is a decorative mirror. These pieces can add instant glamor to a room while increasing natural light. It can also give the room a larger, more spacious feel. You can hang a door mirror or a wall mirror. There are several types of mirrors to choose from, and the right size and weight will make the room feel spacious.
When you choose a door mirror, consider the dimensions of the space where it will be hung. You may not want it to be as large as a bathroom mirror, but it will add a unique flair to the space. Mirrors that are larger will bounce more light around and make the room seem larger than it is. A large mirror will also create a focal point in your room.
They are a smart way to maximize natural lighting
A simple, yet effective way to increase natural lighting in your home or office is to use mirrors. Decorative mirrors, specifically those made from reflective glass, reflect light instead of absorbing it, resulting in an overall brighter and larger room. Furthermore, mirrored glass can be used on nearby windows, allowing natural sunlight to filter through at an angle. By maximising the use of natural light, you will save money on electricity bills by not using artificial lighting during the daytime.