Choose an Aluminium Bathroom Door in Dubai?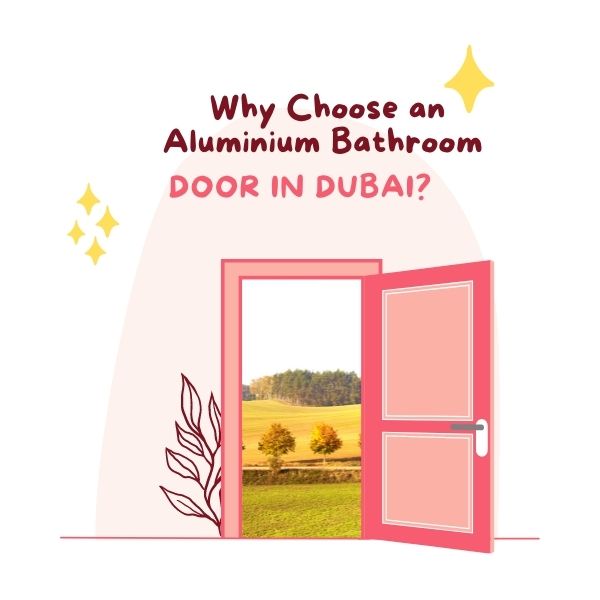 If you want to have a beautiful bathroom and are looking for a new door, consider an aluminium one. This new fenestration technology has several benefits for homeowners, including superior security, reduced maintenance and sleekness. To learn more about the benefits of an aluminium door, read the following article. We'll also discuss a few of the different styles of aluminium doors that you can choose from. We'll also touch on some of the benefits of choosing an aluminium bathroom door.
Aluminium bathroom doors are a modern innovation in fenestration
For those who wish to enhance the aesthetic appeal of their bathrooms, aluminium bathroom doors are the perfect solution. Aside from being stylish and elegant, they also offer a wide range of functional features and energy efficiency. With their low-cost and high-quality options, they are highly popular among specifiers in various sectors. In fact, according to Andrew Cooper, national specification manager at Senior Architectural Systems, aluminium is becoming a more popular option for fenestration solutions.
Unlike steel or iron, aluminium is lightweight and offers a cleaner appearance. Its unique properties make it a highly preferred material in the construction industry. Furthermore, it is durable and requires minimum maintenance, making it an attractive choice for modern homes. In addition to this, aluminium offers exceptional aesthetic appeal and can be supported by larger glazing and thinner frames, allowing for a slim sightline.
In addition to being durable, aluminium bathroom doors also offer many benefits. They are available in a variety of designs and save time during construction. They also have features like louver integrated windows and composite frames. Apart from being strong and durable, aluminium doors are available in a variety of designs and colors. You can choose a design that suits your preferences and budget. With aluminium bathroom doors, you can have a beautiful bathroom that's comfortable and convenient to use.
They offer superior security
If you are looking for an aluminium bathroom door in Dubai, you have come to the right place. This product is rustproof, durable, and lightweight, which makes it a perfect choice for homes that are on the lookout for superior security. Moreover, it requires less maintenance and is suitable for coastal locations, where the elements like humidity and rain may present a problem. Also, these doors are completely eco-friendly, as they can be recycled easily.
They require less maintenance
When it comes to the aesthetic appeal of a home, there's no better choice for bathroom doors than an aluminium door. These doors are both low-maintenance and weatherproof, which makes them the perfect choice for bathrooms. In addition, aluminium sliding doors eliminate the need for space to open the door. In addition, they're more durable than fiberglass doors, which can fade and rust in humid conditions.
Another advantage of an aluminium door is that it is lightweight, which is beneficial for a bathroom. The material is also highly resistant to warping, rotting, and corrosion. It's also easier to clean than solid wood doors, and the surface isn't damaged by moisture. The resulting look of an aluminium door will make your bathroom appear more spacious than a wooden one. It also requires less maintenance than glass doors.
Although aluminum doors are highly resistant to water, they do need regular cleaning to maintain their appearance. A dry, non-abrasive cloth and mild detergent should be used to remove oxidation spots, and you can add baking soda for extra cleaning power. Another great way to clean an aluminum door is by using a mixture of vinegar and baking soda. This mixture will break through tough buildup and kill germs. And the best part? It is cheap!
They are sleek
There are many benefits of aluminium bathroom doors, including their low-maintenance nature and aesthetics. Aluminium doors are also ideal for smaller bathrooms, since they do not require space to open and close. They are also weather-proof and rust-resistant. Furthermore, they do not retain moisture, so they do not rot, rust, or fade. These qualities make them the best option for a bathroom door.
Aluminium bathroom doors are also eco-friendly, and they can be customized to meet your preferences. Whether you want industrial design, a minimalist feel, or a combination of both, aluminium doors can suit any interior. Moreover, they are cheap and durable, and you can even paint them to match your existing interior. They are also durable, and do not add much weight to the door frame. Moreover, they don't need a lot of energy to open and close.
Aluminum bathroom doors in Dubai are available in a variety of styles, colors, and textures, and they can be stained or painted to match your existing decor. Aside from being durable, aluminum doors are aesthetically appealing and will add value to your home. You can even get them made to look like wood, making them a practical choice for your new bathroom. Aluminium doors are an excellent choice for any home or office. You will be happy to know that they can last for decades.
They require less space
If you're concerned about space in your bathroom, you'll appreciate how much space you save when you install an aluminium bathroom door. Not only are they lightweight and easy to operate, but they are also waterproof and low-maintenance. This means you won't have to worry about rust or dents in your door. And because they are made of aluminium, they can withstand humid conditions and high humidity without compromising the design of your bathroom.
Another advantage of aluminium bathroom doors is that they require less space. They are lightweight, and can be customized to suit your exact needs. You can choose a door style that has an industrial appeal or a modern, minimalist design. You can choose the color and finish of your choice. You can even get two different-coloured aluminium doors if you want. You can even get customized doors with a handle, which saves you even more space.
They are easy to repair
Most homeowners do not realize that aluminum bathroom doors can be repaired easily. If your door becomes damaged, the repair process is quite simple. The first step in repairing your door is to identify the cause of the damage. Generally, an aluminium door may need a new lock or handle. If these parts are damaged, contact a professional who is trained in repairing aluminium doors. Oftentimes, the problem is caused by excessive moisture.
The easiest way to repair an aluminum door is to use a soft-bristled brush. This will help you remove any dust or loose paint that may be on the door. Natural oils transferred from other doors may also be transferred to the aluminum door. Mineral spirits mixed with water can help you remove these oils, but make sure to follow the instructions carefully! Then, use a clean tack cloth to wipe the surface dry.
Unlike traditional doors, which require extensive maintenance, aluminum doors are easy to repair and maintain. Since they do not rust like steel or wood, they are easy to clean and repair. They are also environmentally friendly, and they can easily be recycled. This makes aluminum bathroom doors in Dubai an attractive choice for many homeowners. This makes them a great option for those who live in a coastal area or want a more environmentally friendly solution to their door needs.